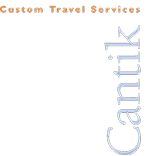 Whether it be a group or an individual, Cantik takes the same interest and care in planning the itinerary.
We strive to design a program to satisfy your personal interests and dreams whether it be a multi-generational trip, an excursion with friends, a honeymoon, a retirement celebration, a cultural train journey, bike trips or simply a shopping spree.
Based on our experience and knowledge we provide the following: selecting a destination, preparing a budget, planning activities and tours and coming up with restaurant and shopping suggestions.
At every destination we provide professional support with someone to look after your every need. For groups, if you so wish, we can assign a tour director to accompany you from start to finish.
The idea is for you to enjoy being pampered, so that you return with unforgettable memories and experiences that fill your soul.
Sharing a unique experience is
another way of enjoying.